Murder attempt Altea, Costa Blanca Spain
The first very sophisticated murder attempt on my life which I saw coming and barely survived because they missed my neck by millimeters, but hit my ear!
And because in the ear they hit the bone and there are not much blood vessels, I got some heart rhythm problems, but was still able to get home. It was no gunshot, but a spring or silent air gun which shot a very tiny ball or spear of poison into my ear.
It felt exactly like a sting from a wasp!
It happened here just next to the parking lot and a few meters south of the Italian ristorante. I had a beer at a lounge bar 250 meters further north where this man was watching me from 35 meters and therefore warned me something bad was coming. A week before he was at Brew Rock asking who I was! But refused to talk to me, so strange also.
Asylum request San Diego & the murder attempt
When I was in San Diego asking for the third time for Asylum against the persecution by the Dutch criminals, and government and Royals protecting the criminals, I gave them this handwritten page below and mentioned that on my smartphone were several pictures of the man and the woman who shot at me. So I had the exact time and date of the attack!
The woman protected him with a heavy beige long coat. Abnormal in hot or warm Spain. He used her shoulder to aim something at me and shot just when I bend out of the line of fire. So he hit my ear and not my neck which would have ment me being dead from a very sophisticated poison causing a heart attack for sure. Nobody would have cared! No investigation at all. Maybe from America.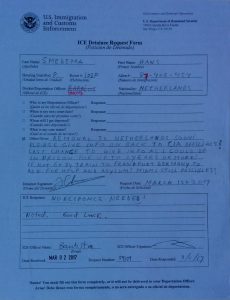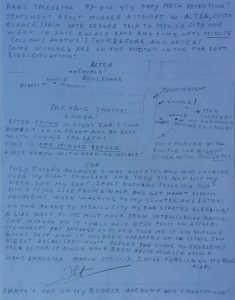 Fifth assassination attempt!
This was the 5th assassination attempt on my life! The first was in 1975, the second and third in 1980 when my neighbor was murdered, then May 20th 2010 in Nightclub Pretty Woman Benidorm, and this one in Altea being the 5th. in 2016. There could have been more, but I don't know about them.
Here the Post about the Brain programming and fourth murder attempt by trying to let me fall from the high stairs(5 or more meters), but the girl who secretly stayed behind and heard me scream for 4 hours had warned the doorman who saved my life! I was unconscious of course until they gave an anti drug to wake me up. The drug caused memory loss so I didn't expect anything to be wrong at the time.
Hersenspoelen en martelingen 20 mei 2010 Benidorm chronologisch!
Brain programming by electroshock
They used brainwashing or brain programming on me several times, just like on my wife. That must have been torture according to a retired Dutch Police Officer who chased prof. dr. Onno van der Hart and his criminal help away in Catral in 2008 at gunpoint! On May 20th 2010 after deportation by Judge Rex Ford from Miami Court that criminal help was drs. Jaap J. Duijs from my town Drachten. Several people saw him in Benidorm and in La Nucia at Hotel Restaurant La Rambla!
The neighbor who was planned to live next door to us, in 1977 he was paid 100.000 Dutch guilders and a monthly allowance at the time until recently,  to keep an eye(control) on us, so we could never file charges without them knowing it and making sure that everything I tried to proof this horrifying case, went wrong.
See posts about Jaap Duijs:
10. Drs. Jaap J. Duijs Drachten
Jaap de Vaginajager als Informant Justitie in grootste Nederlandse doofpot en samenzwering ooit!
They hit my ear!
But this time I saw first another man looking at me in a strange way, who asked my name a week earlier, so I kept an eye on him and made secretly a picture from a distance. And when he later suddenly walked straight up to me, he talked into his phone and looked at the couple standing 15 meters further away. She with this abnormal strange heavy(!) protecting long beige coat which she later used to shield the murderer from me! They are apparently prepared for defense by a gun or so!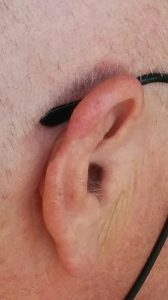 I went further back south where my Scooter was parked, but they went quickly in front of me, and then suddenly turned around and came straight towards me. Which made me afraid they were going to shoot me with a gun, but they don't want a murder, but a naturel looking dead from a heart attack of course. So when next and behind me she was in front of him and he took that shot into my neck/ear.
In America they took away the poison and small parts from my ear and you can see it from my now somewhat mutilated ear.
I took pictures before and after of them trying to make it look as if I took pictures of the sea and boulevard.
Not sure what San Diego guards or ICE did with those pictures who were also in Google Drive/Cloud, but when deported back to Amsterdam I told Sjon from Dutch AIVD about it too! And I should not have done that, because when in Paris after release April 5th 2018 I found no pictures anymore of the murderers! That can only mean that the Dutch themselves were involved and ordered the assassination attempt and quickly deleted all evidence I had. Dutch Justice system working against me the victim of murderers and torturers! No defense allowed at all!
Killing me will not help because in my last will all my rights to damage payment, or book- and film rights will go into the Hans Smedema Amnesia Foundation or its legal successor.
Psychologist drs. Janne(Johannes) Geraets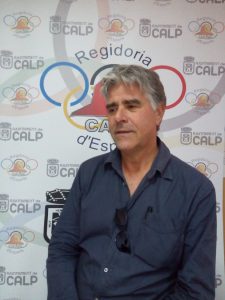 Psychologist drs. Janne(Johannes) Geraets from Alfaz del Pi and Nijmegen Netherlands later on tuesday July 12th 2016 took secretly a picture of my ear pretending to take a picture of the harbour and sea from Restaurant Bar Difference in Altea. Before that he paid the waitress to secretly give me a drug to talk more.
I met Janne in January 2016 when he wanted to talk with me and did on Friday 29th 2016 at first Restaurant Ritz and then Restaurant Bar Brew Rock but both refused to give me secretly his drug and even told me about it. Witnesses! I explicitly told him to stay out of my life and not to try to treat me! But apparently he did it anyway! Secretly! So you cannot defend yourself! Antipsychotic hidden in an official box of Aspirin! Unbelievable what they do to handicap me only to protect the criminal behaviour od Royals, Politicians and Officials.
That means he is involved in the murder attempt on my life, just as he was involved in secretly getting me antipsychotic to make sure I was severely handicapped and NOT capable to fight back at them. I barely survived the assassination! How much did he get for my murder and handicapping me with drugs? Soon a special J'Accuse Post about him!
More later…
Hans Smedema Albir Costa Blanca Spain